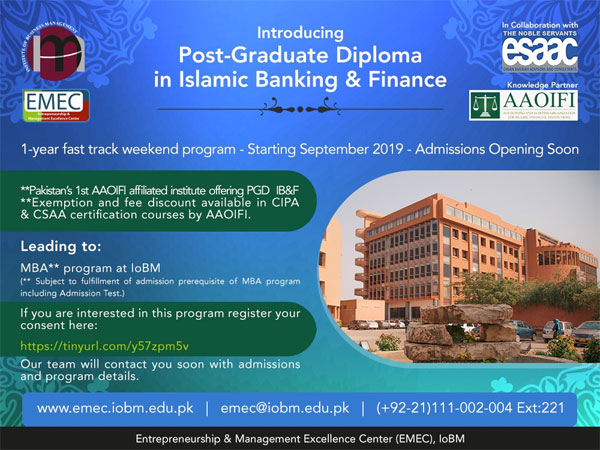 June 3, 2019 - EMEC - IoBM signs MoU with The Accounting and Auditing Organization for Islamic Financial Institutions (AAOIFI), Bahrain to support in IoBMs' upcoming PGD Islamic Banking & Finance with ESAAC. The ceremony was held at IoBM. The MoU is signed by Dr. Irfan Hyder, Rector IoBM & Mr. Omar Mustafa Ansari, Secretary General, AAOIFI, Bahrain. President IoBM, Mr. Talib Karim, CEO ESAAC Mufti Ehsan Waquar from Ehsan Shariah Advisors and Consultants (ESAAC) were also present during the ceremony along with IoBM team members and ESAAC team members. Under this arrangement, the IoBM become the first institute globally to integrate CIPA & CSAA Courses as an affiliate institute of AAOIFI. The students will get exemptions in CIPA & CSAA courses of AAOIFI.

On this ocassion, Mr. Farhan Noor Head - Professional Development & Training at AAOIFI said "I am thankful to Mufti Ehsan and to IOBM for fully integrating the AAOIFI CIPA and CSAA Fellowship Programs into their own PGD Program. This way the students will get to study for and earn 3 qualifications at the same time, which is truly remarkable. It's a great opportunity for students to really master Islamic finance."
We fully support and endorse the initiative and pray for its success.